Disneyrewind - June 16, 2002 Lilo & Stitch premieres at El Capitan Theatre in Hollywood, CA


June 16th 2002 The premiere screening of Disney's 41st animated feature Lilo & Stitch takes place at the El Capitan Theatre in Hollywood.
Walt Disney Pictures hit a home run with this one. Lilo & Stitch is produced on a tight budget inspired by the production of Dumbo. It's the story of a Hawaiian girl, named Lilo, who adopts a blue dog, Stitch - Experiment 626, a nearly indestructable and notorious extra-terrestrial fugitive from the law.
Lilo and Stitch is Walt Disney Pictures 42nd feature length animated production. This movie was the 2nd of 3 animated features that was produced primarily at Walt Disney World's Disney-MGM Studios in Orlando, Florida. The Film was so popular it spun off 3 direct to video sequels and an animated series.
Stitch! The Movie, was released on August 26, 2003.
Lilo & Stitch: The Series, which ran from September 20, 2003 to July 29, 2006.
Lilo & Stitch 2: Stitch Has a Glitch, was released on August 30, 2005.
Leroy & Stitch, was released on June 27, 2006 as the conclusion to the TV series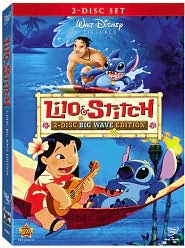 Among the guests in attendance for the premiere are actors:
Jason Scott Lee - voice of David Kawena
David Ogden Stiers - voice of Jumba
Kevin McDonald - voice of Pleakley
country singer Wynonna Judd - performs the Elvis Presley song "Burning Love" on the film's soundtrack